The writing is on the wall….the end of golf season in Northern NJ is in sight, but before we all call it a day, here's a light hearted ode to the late season golfing experience.
The pressure is off your game – you're liberated from all those exacting golf formalities – no score posting for handicap – lost balls mean the leaf rule is invoked – winter rules (roll the ball over) are in effect – weather conditions add strokes to your game – now's the time to just enjoy the beauty of Fall.
So ok, Indian Summer has come and may be almost gone – the Fall colors too – but those last few extra warm days are sweeter than a beautiful mid summer day!
Without further ado, here are some tips for enjoying the end of golf season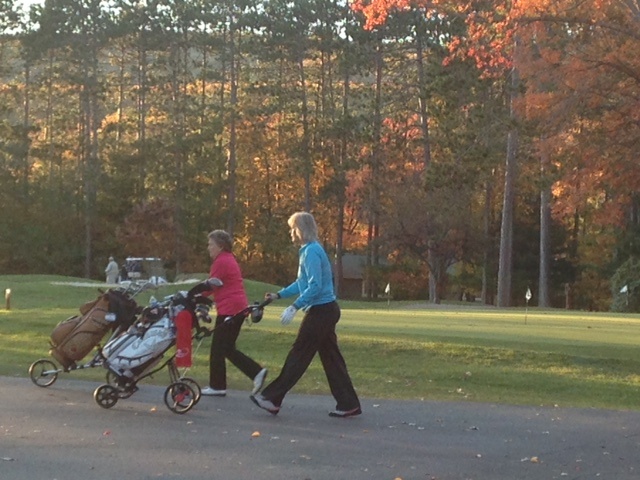 Lower Fall rates mean you can play in prime time – which is what you'll want to do
to get in a full round before sunset.
Use complementary rounds accumulated during regular season play – Bowling Green has a Frequent Player loyalty program which earns you a free round after every five paid rounds – no restrictions. Loyalty programs are influential to decision making for many golfers according to Rekreation Marketing.
Be a walk on for solo golf late in the afternoon when you have the course to yourself. Catch the full moon rising.
Enjoy the vagaries of the season – frost delays might mean starting on any hole but the 1st – shot gun starts are used weekends at the end of the season when daylight hours only allow for a short window of play – or the nines might be flipped to accomodate short staffing during slower periods.
About the weather – if it's warm – you've hit the jack pot and there's always the option of a beer & a hot dog after your round.
If it's cold (but not cold like winter!) bring several layers and hope you can take some off. Visit the pro shop for stuff on sale.
If it's cold, walking instead of riding is invigorating.
If it's cold, play a softer compression ball and ditch the 3 and 4 irons for hybrids. You'll maintain the distance you're accustomed to. Repeat # 6; visit the pro shop or sporting goods store for equipment on sale if you think you'd like to try something new for next season.
If it's cold, there's always the option of a warming adult beverage at the 19th hole when you're done. Your favorite bartender loves seeing you:)
Review the swing thoughts & habits which worked well for your game during the season – check your yardage on frequently used clubs – maybe it changed over the season – or maybe late season weather conditions dictate an extra club. Keep notes so that you have a head start on next season. And, it's never too late to start working on next season's swing with your local pro! He'll give you something to do over the winter.
The Number #1 reason *** Enjoy faster greens & lusher fairways – grass loves cooler night temperatures & it's easy to forget that conditions are often at their best.
Whatever your reason for enjoying late season golf, pat yourself on the back for being an avid golfer!
Visit here to learn more about the golf experience at Bowling Green. Download our ebook for further reading.