There are thousands of golf related smartphone and tablet apps available which can help you with your game, analyze your score, help you with the rules or even act as a surrogate caddy. Today we're sharing some of Bowling Green Golf Club's favorite golf apps that can help you on the golf course or entertain you off the course.
1.) Free Golf GPS Range Finder –Available for iPhone(free), Android(free), and blackberry(free)
Swing by Swing's Golf GPS Range Finder is a free GPS distance app for your mobile phone. With more than 21,000 courses in its database, finding the course you're playing is almost certain. Once selected, the app portrays aerial imagery of the golf course based on where you are standing.
Considering you can buy golf GPS devices for upwards of $300 this free app does the job fairly well.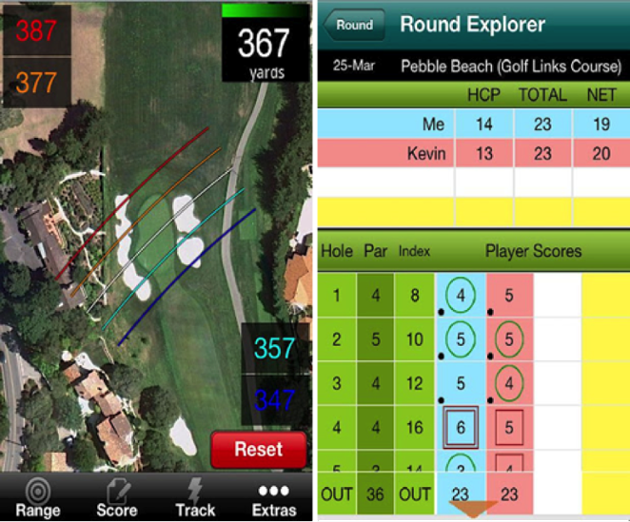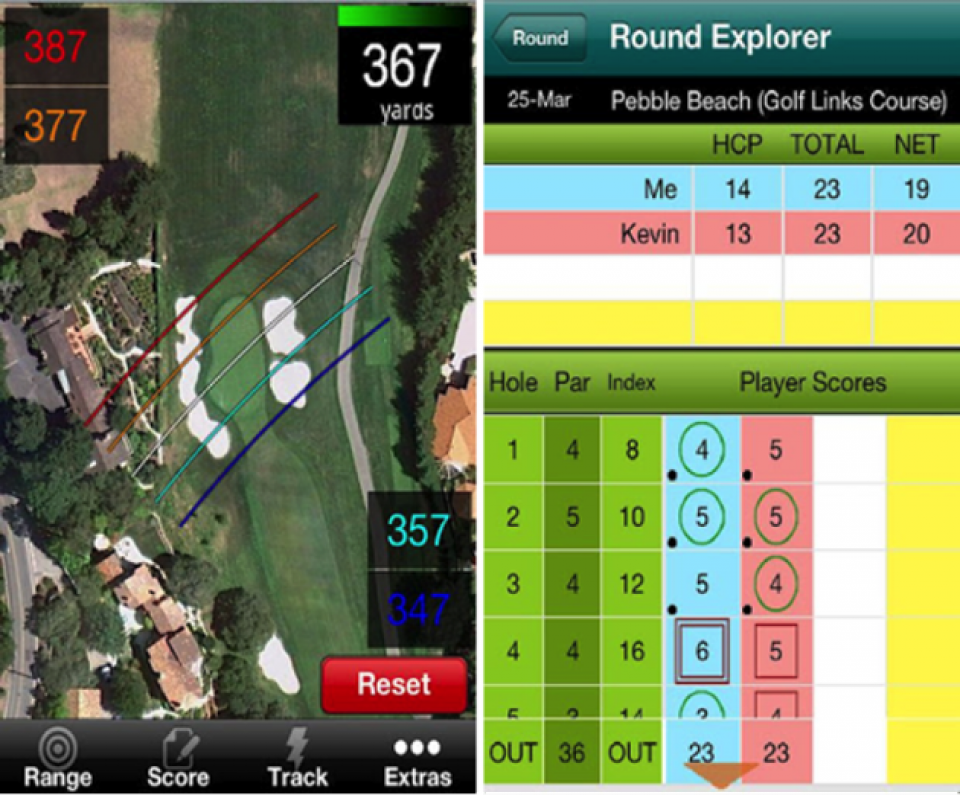 By creating a free membership at swingbyswing.com you have access to:
Center of green GPS yardage;
Distance to any point on the course, simply by touching the screen;
Satellite view of every hole;
Basic 4 player scorecard and statistics, stroke 4 play or stableford;
Measurement of how far you hit your shot.
With a $14/year membership you have access to all of above plus:
Green view with distance to front/back;
Track and improve your game with stats like putts, drive direction, and more;
Play games with handicaps enabled;
Club tracker to measure the distance of any shot and review your round in 3D;
No advertisements.
The ability to touch the screen and find out how far you are to the point you've selected is a great feature for deciding on where you want to hit your tee shots, or where you want to layup to. The green feature displays different colored lines on an enlarged image of the green, displaying distances to the front, middle and back of the green.
With a clean interface, navigation is simple. You can search for courses either by name or location and you are able to write a tip for each hole to help yourself (and others) remember how to play the hole next time around. If you are considering a GPS device but are perhaps put off by the expensive prices, this is a perfect app to try.
Swing by swing Range Finder V3.0
2.) Golf Channel Mobile – Available foriPhone, iPad(free) andAndroid(free)
With the Golf Channel Mobile app you can have the golf world at your fingertips. Read the latest articles, blogs, and analysis from the game's most knowledgeable insiders. You can mark and follow your favorite players in the week's tournaments with leaderboards from all major worldwide tours. Also available are videos covering the latest news in the golfing world along with instructional videos from the world's best instructors. Golf Channel experts share their picks before each tournament, as well as breaking news as it happens.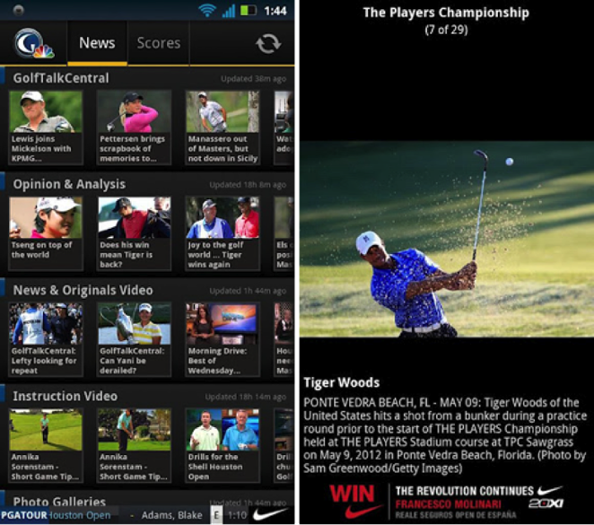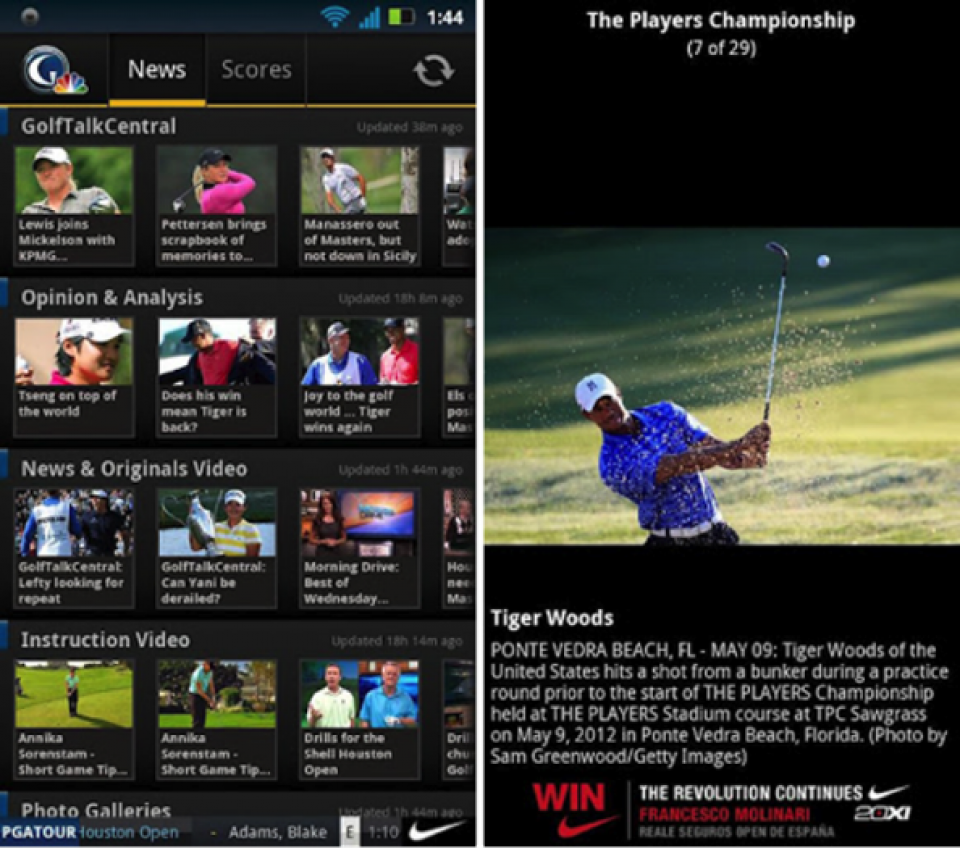 Some of the appsfeatures include:
The latest Golf Channel shows (news and originals), with behind-the-scenes videos, photo galleries and other exclusive content;
Tips from golf's best instructors and legends;
Start your day with Morning Drive live audio streaming.
3.) GSA LITE& PRO – Available foriPhone(free) &Android(free)
GSA LITE is the first application available on the market that enables golfers to instantly learn about their golf swings. It records your swing motion and sends the information straight to your smart phone by using the GSA LITE app. Features includecalculating your tempo, club face angle andhead speed, and Attainable Ball Distance. You will need a 3BaysGSA device connected to your club grip to link with the GSA LITE app in order to capture your swing motion analysis.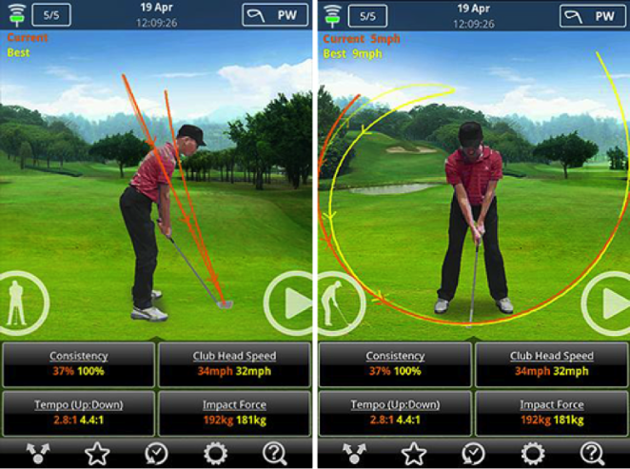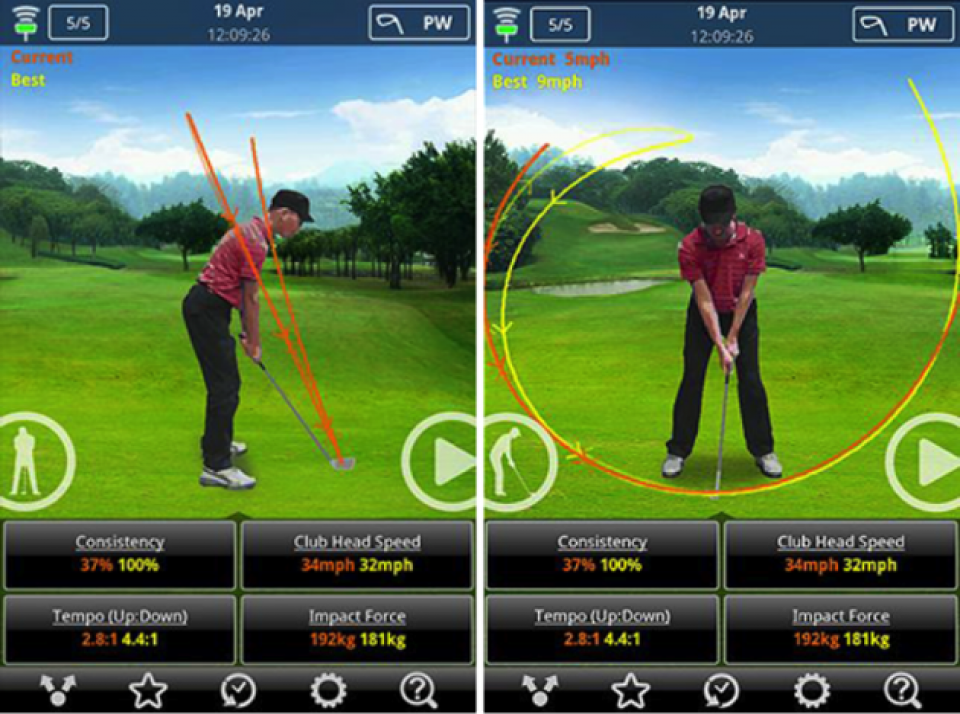 With the GSA LITE app golfers can instantly:
See 3D animations compiled from the 10,000 data points captured per swing
Measure consistency, tempo,back swing time, down swing time, face angle, club head speed,Ӭimpact force,Ӭattainable ball speed, attainable shot distance, andswing path;
View comparisons of your current swings with your best swings;
Share with friends via Facebook, email, and Twitter;
Store historical swing performance.
The small, lightweight, unobtrusive 3BaysGSA device captures each of your swings and instantly presents you the related information with high accuracy. Its plug and play technology makes it completely free from obstruction to your set up or swing, and it does not affect the weight distribution of your golf club.
We wrote about a similar product, the Swingbyte, in our Father's Day Gift Ideas blog post that you can read about here. The Swingbyte is slightly less expensive than the 3BaysGSA.
4.) Super Stickman Golf – Available foriPhone, iPad ($0.99) and Android (free)
Although this app lacks the ability to analyze your swing or keep you up to date on the latest tour news, Super Stickman Golf could possibly be the most fun and addictive golf app on the market.
The graphics are simplified but the retro feel adds to the games charm. The easy to play but difficult to master (especially in later levels). The game lies in the design of the holes and the physics employed to recreate accurate movement of your ball through the air. With sandtraps and water hazards joined by other obstacles, such as conveyor belts, huge gaping canyons, pillars and more, the challenge is not just to get theball in the hole, but to do so creatively.
Playing the game alone is fun, but playing against friends and racing to see who can get the ball in the hole first, makes it even more enjoyable. You can download the multiplayer version of the app and play with your friends and family.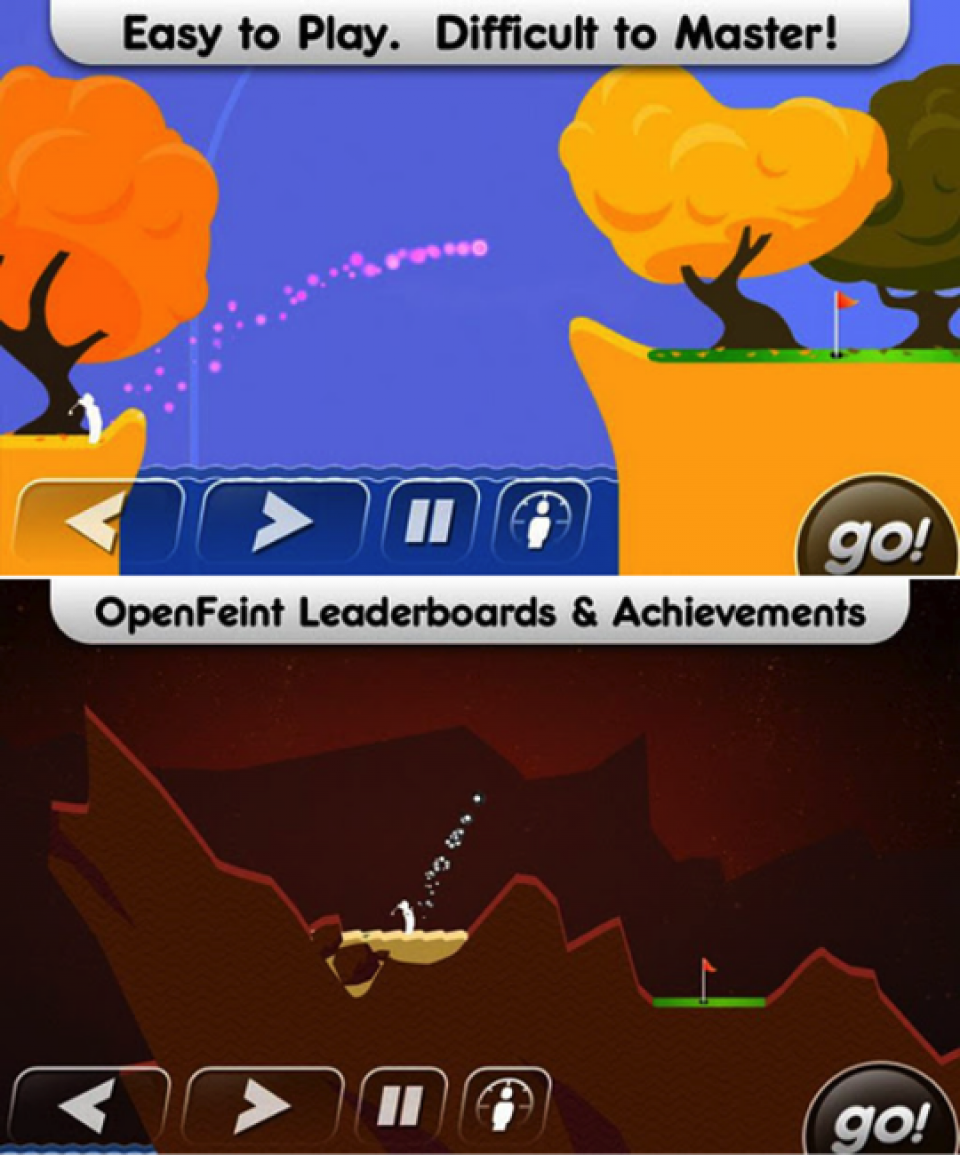 Features include:
7 unlockable super clubs;
Over 280 unique holes;
OpenFeint online leaderboards;
Amazing HD graphics;
Integrated OpenFeint Achievements.
5.) Flick Golf! – Available foriPhone, iPad($0.99) and Android($0.99)
What Super Stickmann Golf lacks in the graphics department Flick Golf! Makes up for. The game is not a realistic golfing simulation but more of a target practice game using golf mechanics. The player simply flicks their finger upward to hit the ball and then flicks in midair to change the spin of the ball. Landing the ball as close to the hole as possible. The game has 3 modes: Quick Shot, where scoring as many points in 60 seconds is the goal; World Tour, where the player has 9 shots to score as highly as possible; and finally there's Quick Shot Pro, where holes are windier, bonuses are worth less, and players only start with 30 seconds on the clock.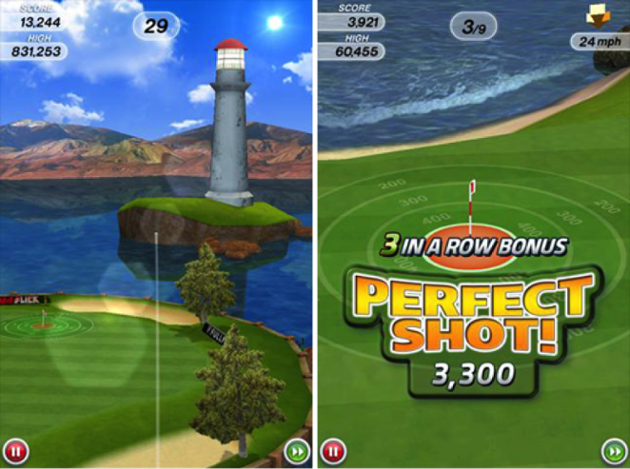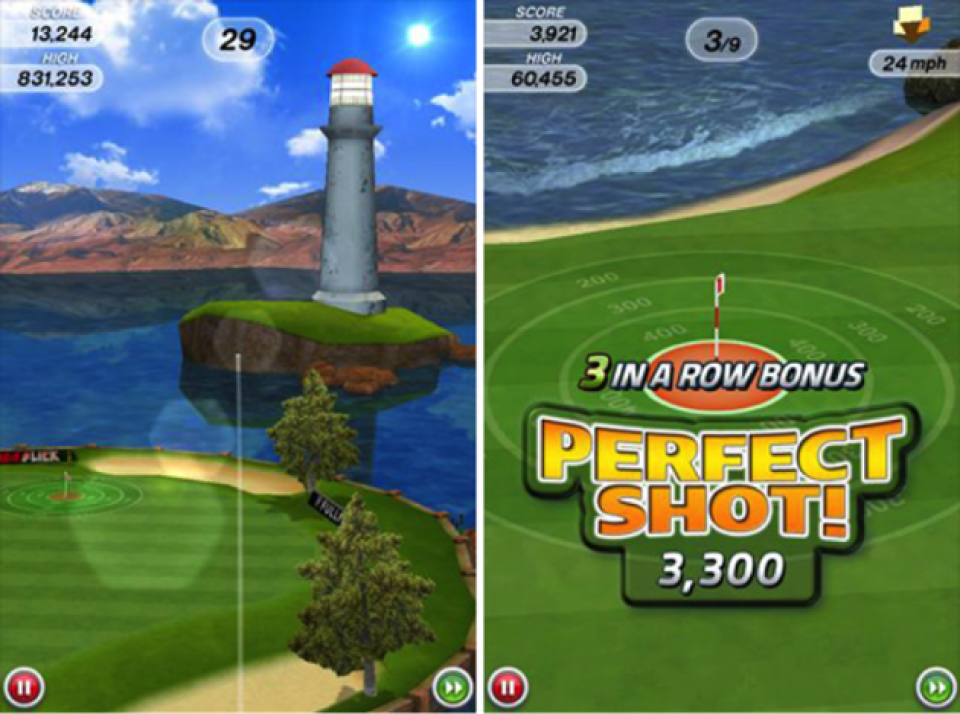 After lining up your shot and flicking the ball, you'll be able to change the direction of the ball in mid-flight by swiping your finger in the direction you want the ball to go. This lets you put all the top spin/back spin/curve on the ball that you want in an effort to guide it to the hole. As you'll quickly realize after your first shot, this game will have you swiping up a frenzy. Factor in ever-changing wind direction and speed, and you've got a recipe for a game that offers up a unique challenge no matter how many times you approach the same hole.
Do you use other golf related apps? We want to know! Share your favorite golf related iPhone, iPad and android apps with us in the comments!