The golf course is recognized as a great place for developing strong friendships and working relationships while having some fun; and a golf outing might be the perfect choice for your next charity fundraiser, corporate event, or family reunion.
We've seen a lot of golf outings held at Bowling Green Golf Club with many satisfied hosts and attendees. We've learned a thing or two along the way about planning a successful golf outing and would like to pass this knowledge along to you.
Charity Fundraisers
Golf outings are not the "new kid on the block" on the fundraising circuit however the earning potential from these events should not be overlooked for many organizations. Late Spring and early Fall are the most popular times of year to host a golf outing in the North East region. Supporters of charities will happily donate to the cause for a beautiful day out of the office and on the golf course!
Careful planning is required so that your event will go off without a hitch. Organizations relying on volunteer committees to plan their event appreciate the services of Bowling Green Event Coordinator Jeni Bishop who handles all the logistical details of your event at Bowling Green. There are many decisions you'll make as you plan your outing so here are some tips from Jeni to help you plan a successful, enjoyable event:
How Large Should the Event Be?
The minimum number of players required to book a shotgun start is 72 with a foursome teeing off on every hole. The maximum number of golfers comfortable on an 18-hole course is 140, with almost two groups starting on every hole. These numbers ensure that at the minimum, everyone will finish at the same time and at the maximum, all golfers will finish within 10 minutes of each other. In order to start on all 18 holes, it is necessary to close the course on the day of the outing for 4.5 hours before and after the outing so you'll have the course to yourself that day. At Bowling Green, shotgun outings are accommodated Monday "" Thursday starting at 10 am or 1pm.
If you're an organization planning your 1stannual golf outing, it may take a year or two to build an attendance base of the minimum 72 golfers. For less than 72 players, a reverse shotgun is used. In a reverse shotgun, foursomes will tee off from the 18th tee in reverse order, allowing the 1st tee to open up for daily customers when the last outing group has played through.
Select Your Format
Early in the planning stages you will want to decide what format your tournament will follow. There are many tournament format options but two of the most popular are the "Scramble" and "Low Gross Low Net".
At a typical golf outing, many of the participants are casual golfers who only play occasionally. The challenge then becomes finding the right tournament format, whichallows the casual golfer to enjoy the day without becoming frustrated by too many poor shots. The scramble format solves this challenge. How does a scramble work?
Each foursome will be playing one ball together as a team to obtain a score.
Each player hits a tee shot: the best shot is then selected, with the other 3 team members picking up and moving to that spot to hit again.
Play continues in this fashion with each stroke being played from the best position until the ball is holed out.
What keeps it interesting is that the player whose shot is selected for play must then sit out the subsequent shot.

It's nice to keep all foursomes balancedbetween high and low handicaps so that each team has an even chance of winning. Sociability and speed of play are the advantages of the scramble.
On the other end of the spectrum is the Low Gross, Low Net format. With this format, players are individually handicapped so it's not necessary to balance out foursomes. Experienced players are fond of this format because they're playing their own ball. A disadvantage is the speed of play can bog down if most participants are casual golfers; as the name Low Gross indicates, every shot has to be played and counted by each player. Variations on the formats above are the "Shamble" and "Best Ball" and are also possibilities. No matter which format you choose, tournament scoring will be taken care of as part of your event coordinating services at Bowling Green.
Pursue Corporate Sponsorships
A sizeable portion of the proceeds your golf outing generates will come from corporate sponsorships. Sponsorships allow charities to cover some of their outing costs in exchange for a little recognition and goodwill on the part of the sponsor. Consider offering different levels of sponsorships relative to the size of donations, i.e. platinum, gold, silver. Other types of golf outing sponsorships can include:

Many of these sponsorship options require that you have professional signs printed so be sure to figure that cost into the dollar amount of the sponsorship. If you need help with getting signs printed, Bowling Green is able to handle that for you. Securing sponsors can introduce your charity to the business community and be mutually beneficial to both parties when everyone gets creative with fun sponsorship ideas. On the day of your outing, Bowling Green staff will take care of placing sponsor signs out on the course.
Include Something for Everyone
Your main goal is to raise money for your charity and make sure that everyone in attendance has a great time so the more prizes the better! In addition to the traditional prizes for first, second, and third place in the scramble, or low gross and low net individually, consider presenting prizes for longest drive, closest to the pin, a putting contest, beat the pro or invent another game in which golfers of every level can participate.
Gift certificates to the pro shop make prize selection easy on organizers and are built into the price we quote for outings at Bowling Green. For other prize options, approach sponsors to donate prizes for a raffle, run a 50/50, a silent auction or sell "Mulligan Tickets" to golfers at the start of the event. You're only limited by your imagination and the hours you want to devote to planning your event.
Host an Awards Dinner
End the day with a dinner & celebratory awards ceremony recognizing and thanking your sponsors, attendees and winners. You can get creative with your recognition of sponsors. We've seen one organization produce attractive paper place mats to showcase the names of sponsors in place of an event program. Another group logoed 18 pin flags and presented each sponsor with a souvenir of the day.
We've found that with today's busy lifestyles, golfers are pleased to eat quickly and comfortably and receive their prizes. The catering pavilion at Bowling Green Golf Clubis the perfect option for a less formal dinner. The casual setting doesn't compromise the quality of the food but allows golfers to come off the course and go straight to cocktail hour. For cooler seasons and smaller groups, the clubhouse dining room is also available.A range of menu packages is available to suit all budgets.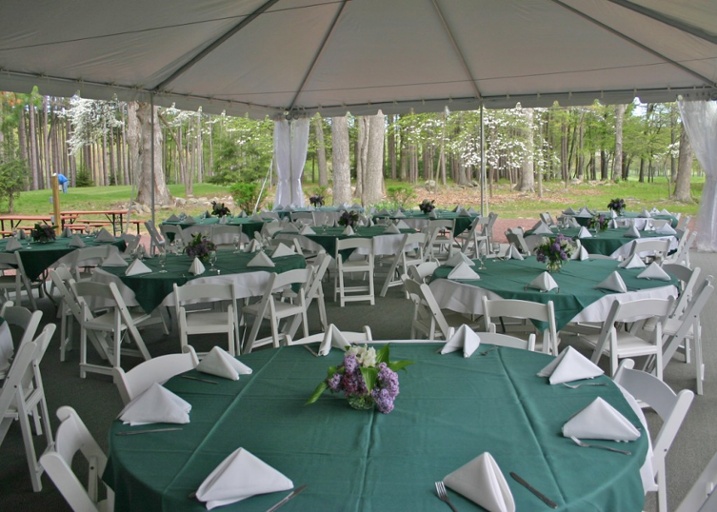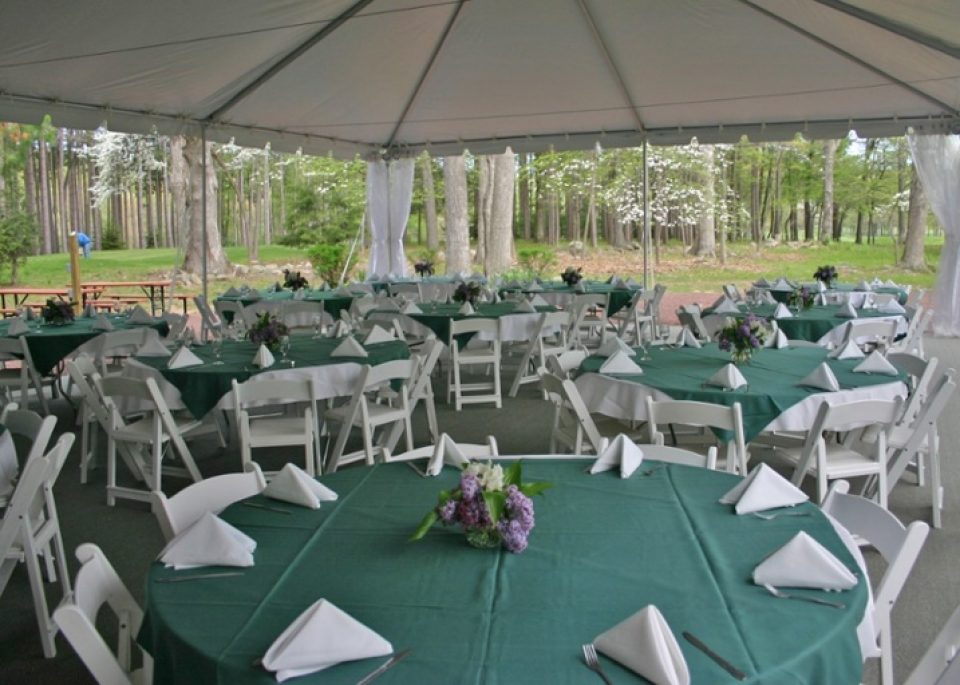 Corporate Golf Outings
Bringing clients and/or business associates together for a fun day of golf can increase rapport and build lasting relationships. Business meetings can be scheduled around your golf event to mix business with pleasure. Should conference room space be required Bowling Green is able to accommodate with a small conference room.
Bowling Green is pleased to provide the services of our Event Coordinator for small groups of less than 60 people. Keeping the day structured with some room for fun and networking will provide a pleasant balance. The Event Coordinator Jeni Bishop recommends the schedule below for groups of up to 28:
Sample Itinerary
9:00 a.m. ""Welcome remarks & Continental or Buffet Breakfast
10:00 a.m. "" Business Meeting
11:45 am "" Warm up on driving range, putting green
12pm – 1 pm "" Tee off, Box lunch to go
4:30 p.m. "" Cocktails & Hors D'oeuvres
5:30 p.m. "" Awards Ceremony
Family Outings
Golf courses have all the facilities offered at traditional catering venues (food, alcohol, parking, event coordinator, etc.) plus a beautiful backdrop for that special personal or family occasion. Our tented Pavilion has gained popularity as an economical option for a variety of parties and word has spread that Bowling Green has the ability to cater more than golf outings. If your imagination calls for an out of the ordinary party setting, Event Coordinator Jeni Bishop will be able to tailor our facilities to your vision, customize a menu and accommodate special requests. The clubhouse dining room is also available for smaller parties and is perfect for bridal and baby showers.
Interested in Hosting Your Next Event at Bowling Green Golf Club?
If you're interested in hosting an outing at Bowling Green Golf Clubin scenic Northern New Jersey reach out to our event coordinator, Jeni Bishop. Jeni can take you through the entire process and make sure your event goes off without a hitch.
Happy planning!