Play Golf America encourages families to play golf together this summer with Family Golf Month events on the golf course. Family Golf Month promotes golf as a fun, family-friendly recreation by providing opportunities for families to learn, or to improve their game together.
Nearly 2,100 facilities across the country are registered to host Family Golf Month events. At Bowling Green Golf Club, Family Golf Month is celebrated throughout July and August. Our program takes place on Saturday and Sunday evenings beginning at 5 p.m. on the Front Nine holes. At this time of day, families can have the course to themselves to play in a casual, unpressured environment.
Beginner golfers and children can tee off from the gold tee markers placed forward in the fairway, shortening the course and essentially creating a Par 3 length course with no hole longer than 200 yards. Experienced golfing Dads and Moms are also encouraged to play the shorter distance. Added pressure on the tee shot to be accurate in distance and aim will challenge the better golfer: see how close you can come to playing the course in regulation (29) Rates are reduced for our Family Par 3 nine hole course to $20 for adults and $10 for children 12 and under.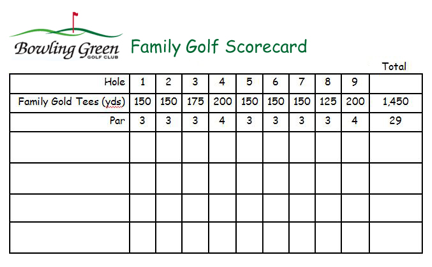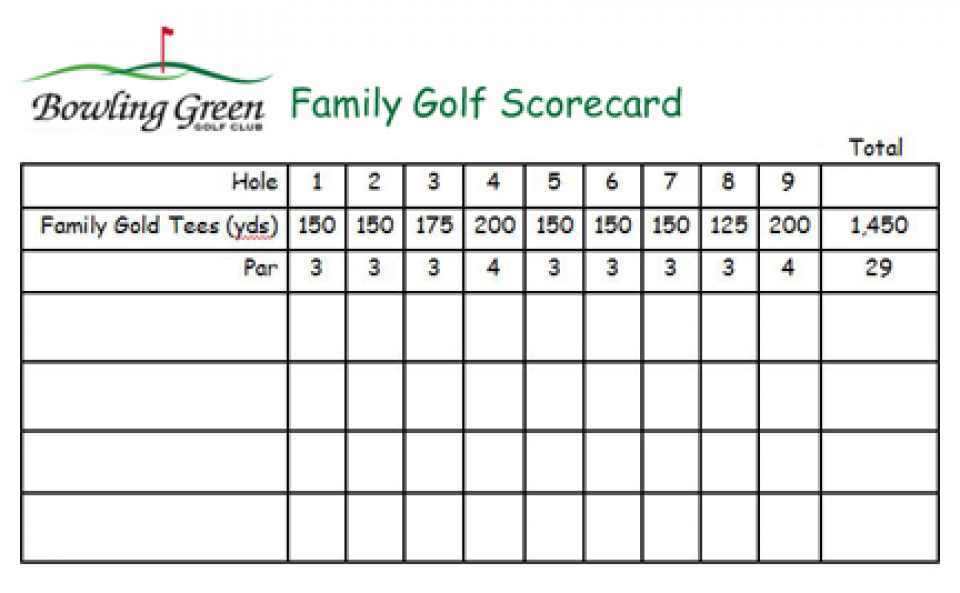 With the beautiful rolling hills of Northern, NJ and the backdrop of our namesake, Bowling Green Mountain, Bowling Green makes the perfect destination for a "staycation", a family summer day trip close to home. Giving your children or grandchildren the opportunity to learn the game that lasts a lifetime is a satisfaction you won't want to miss. Here are some tips to help you teach your kids how to play golf:
Set up a junior's bag with clubs, balls, tees, ball markers, a drink and a snack. Junior club sets come with a limited # of clubs "" wood, iron & putter to start. A bag to carry them, a cap and you're set to go. Bowling Green doesn't have junior clubs available for rent.
Teeing up the ball on the fairway as well as the tee encourages success! It's okay to give children two or three attempts and let them know you are not keeping score. After a few attempts, pick up the ball, move closer, and try again.
When you're teaching them something new get down to your child's level and stand eye-to eye.
Teach them to be considerate by letting them know that it is never okay to run on the greens or throw clubs and balls.
Make sure children learn to stand back from the player hitting and to never stand directly behind a club being swung.
Parents remember it's okay to quit if attention fades or things are not going well. If your child is not having fun, they will not have the patience to stick with it.
During dinner after your day on the course, ask your child what they liked about golfing and what they didn't like about playing golf. Make plans to try to fix the things they didn't like and do more of what they did like next time.
Don't forget to bring a camera to capture the wonderful memories you are creating as a family.
Include fun activities while on the course that is not golf related "" check out the sand traps. Look for frogs on the 4th & 8th holes.
Most importantly "" remember to have fun!

Follow up your nine holes with a pub-style dinner at the Grill Room. A $5 off coupon to the Grill Room is included with each green fee purchased at Family Golf rates. The Grill Room Pub menu offers tasty children's favorites (grilled cheese, chicken fingers & pizza) while Dads & Moms might enjoy a crab cake or blackened salmon main dish salad. Mom and Dad can relax on the Grill Room deck, enjoy their meal, and watch the kids hit balls on the driving range.
You might decide that teaching your child to play is best left to a professional. If that's the case, Golf Professional George Heslin will be teaching a weeklong summer golf camp for juniors from August 6th through August 10th. George has introduced hundreds of juniors to the game of golf and enjoys teaching them the fundamentals, along with golf etiquette and tradition. Call the Pro Shop (973) 697-8688 or email George [email protected] to register for the camp.
PGA of America President Allen Wronowski said1 "Golf provides children with life lessons of discipline, honesty, camaraderie, sportsmanship and etiquette, and families can really capitalize on these benefits during Family Golf Month" and we completely agree!
1 http://www.pga.com/news/pga/family-golf-month-encourages-families-hit-links-in-july