A brisk pace of play is an important element of a great experience on the golf course. We all know the game of golf has a tendency to slow down. After all, hitting a small white ball with accuracy and distance is no easy skill. Add to that measuring oneself against an established standard (par), it's no wonder that players take extra time to get it right!
Golfers who enjoy Bowling Green know and understand the time-honored tradition of fast play etiquette. Here are some tips for making sure your pace of play is as brisk as it should be.
How to Speed Up Your Pace of Play with Ready Golf
Ready Golf is a practice most golfers are familiar with, but for those who aren't, "ready golf" does not abandon golf's traditional etiquette in favor of the first person "ready". It actually helps speed up the game to make it more enjoyable. Below are some of the principles we find useful to keep play moving.
The player with honors (the lowest score on the previous hole) should be ready to tee off first. Use common sense when a player is not ready but In general, play will move fastest if all players are aware of when to take their turn.
If you are not in the line of play, move forward or help others find a lost ball.
All golfers in your group should go to their balls as soon as possible and get ready to play their shots. While waiting to hit, players should survey their shot, select clubs, and stand at balls ready to step up and make their shot
Line up your putt while others are putting
If your first putt has not reached the hole and someone else is now "away" indicate that you have finished your turn by promptly marking your ball.
Finishing the short putt, especially for a 3 putt, is the correct etiquette and fastest play. If you are not in someone's line putt continuously and informing your partners that you intend to do so.

Tips on Navigating the Course
Where you walk and where you park the cart can significantly affect pace of play:
Park the cart or leave the bag off the green on the side closest to the next tee.
Drop your partner off at their ball and ride ahead to yours, and switch drivers if necessary.
When putting, leave the clubs you used for chipping in line with the next tee.
Carts on the path? Take several clubs with you when you walk to the ball so that you don't have to walk back to the cart.

How to Play More Efficiently

Mark your scorecard after leaving the green.
Limit the time looking for a lost ball to one or two minutes.
On the walk or ride to the next shot, start assessing the situation and get a feel for the shot, the wind, and the yardage.
Often the best read is the first read. Go with your gut.

The Pace of Play at Bowling Green Golf Club
The foundation of Bowling Green Golf Club's fast play is rooted in the traditional layout of the course. Certain attributes of a course really lend themselves to a fast pace of play and Bowling Green's traditional design incorporates so many:
Course is walking friendly "" short distance from green to next tee;
Golfers can easily see all hazards and quickly find balls in the rough;
Course is also cart friendly "" drive to your ball in all but the wettest weather conditions;
There are no blind shots.

Bowling Green employs player assistants, who have been trained to manage slow groups and educate players on Tee it Forward options. This encourages golfers to choose shorter, more skill appropriate distances.
The pace to play 18 holes of golf at Bowling Green rated by the USGA is 4 hours and 6 minutes for a foursome. We work hard to keep the daily pace of play at this mark and take pride in being "the home of the 4 hour round". In 2005, before we asked our players to conform to this pace, we surveyed actual times on the course to ensure that the pace was possible. The results of the survey showed the "4 hour round" was highly achievable. Our player assistants use charts which tell them where each starting time should be on the course; quickly allowing them to see when a group has fallen outside the pace. They have been trained to tactfully but firmly ask groups to speed up.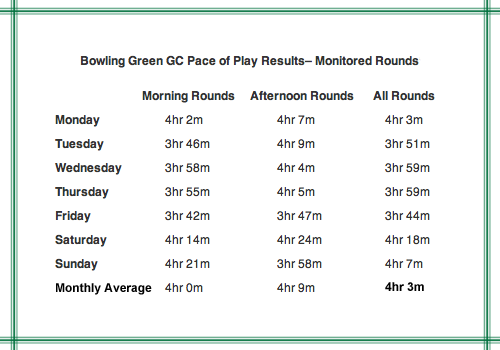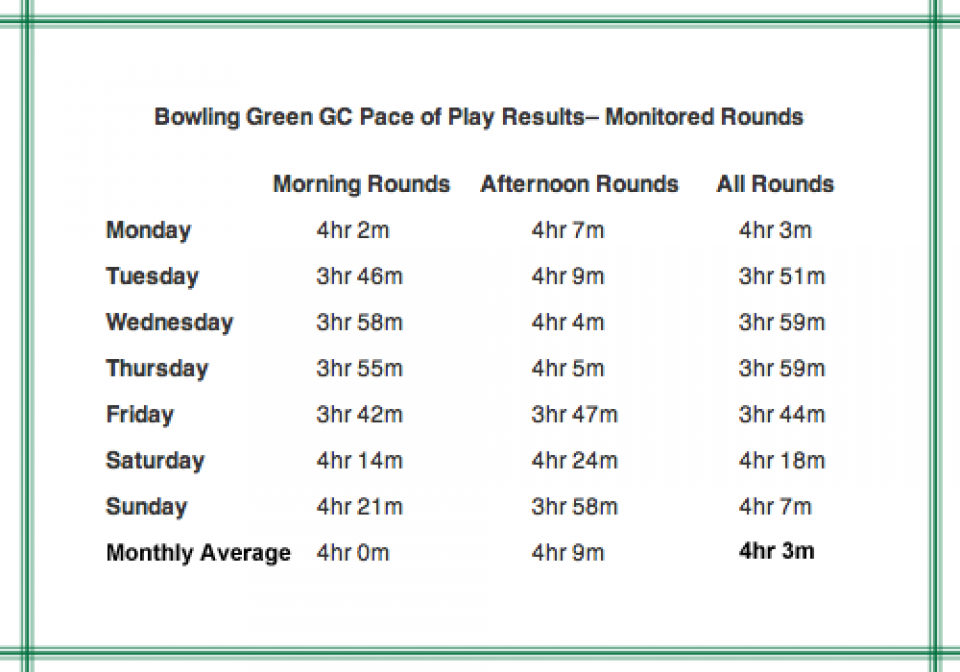 It's important to remember that pace of play isn't about rushing your shots. It's about being ready to play your stroke when it's your turn, and behaving efficiently on the course. Pace of play can be boiled down to two simple phrases: be prepared and be ready to play.
If you are unsure about your own pace, try this test the next time you're on the course:
If you can walk to the tee and the group ahead has already moved on so that you can hit immediately, you may be behind.
Your place on the golf course is immediately behind the group in front of you, not immediately in front of the group behind you.
How We Implement and Improve Our Fast Play Program

Once we committed to the 4-hour round, we analyzed every aspect of play. Our plan included widening some landing areas, removing trees, and clearing undergrowth. We've lengthened tee time intervals to ten minutes (they are typically six minutes) between groups. Fewer golfers virtually eliminate delays and improve course conditioning.
The slowest group on the course dictates the pace of play for everyone behind them. Because of this, any group that gets out of position — especially early in the day — will affect many groups after it. It is important to be prompt for tee off, and our starters are careful to start groups at the assigned time.
Most experts agree a good pace of play not only increases enjoyment of the game, it can actually improve your game. Standing around on every shot allows muscles to cool down and limbs to stiffen up. A brisk pace can help keep you loose and ready to play.
Do you have any pace of play tips that work for your foursome? Let us know in the comments.