Are you frustrated by your ability to score on the golf course? Is your approach shot to the green under pressure because distance forces you to use a long iron or hybrid? Are you missing out on the opportunity to play a fun short game? The PGA and USGA have the answer "" play a shorter yardage. A new trend is developing in the golf community, promoted by the PGA of America and the USGA, called Tee It Forward, which encourages golfers to rethink their mindset and select a shorter yardage from which to play; a yardage which allows the amateur golfer to experience the game as the touring pros play.
We've all admired the tight-to-the-pin shots made by the pros in both the PGA and LPGA every Sunday afternoon on TV, followed by a great putt for birdie or easy par. They accomplish this by hitting an accurate approach shot with wedges and short irons, rarely longer than a 7 iron. It's all set up by a very long drive. Why does the average weekend golfer play from tees that are too long to set up a short approach? The answer? Maybe pride or tradition? Tee it Forward suggests that moving up to a set of tees better suited for one's ability will create a more pleasurable experience, provide a new approach to the game and reduce frustration.
In keeping with the Tee It Forward initiative, Bowling Green has introduced two new mixed tee combinations at 6,000 and 6,400 yards which join the other 5 tees offered: black (6863yds), blue (6,584), white (6244yds), yellow (5763yds) and red (5051yds). This scorecard shows all the possible tee options a player can enjoy at Bowling Green.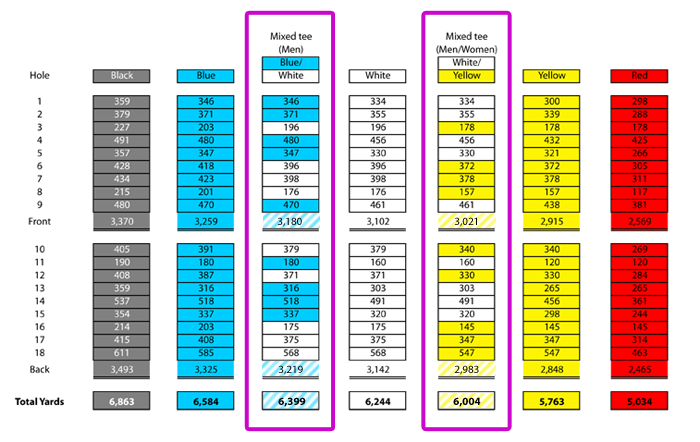 The addition of the mixed blue/white and yellow/white tees gives players Tee it Forward options. For example, a Bowling Green golfer who usually plays from the blue tees might choose to move up to the blue/white tees and play a 6,400-yard game. This corresponds to a 250-yard drive off the tee. A player who usually plays from the white tees might move up to the white/yellow tees at 6000 yards, which corresponds to a 225-yard drive off the tee. It is also notable that our red tees at 5051 yards win approval from Ladies Links Fore Golf (LL4G), the women's amateur golf organization, as a women friendly length.
When golfers play shorter distances they will actually be playing the game more closely aligned to the way professionals play. The player's drive will allow for a short iron approach shot to the green instead of a mid iron or hybrid approach to the green. This puts the focus on the short game, a skill that all ages can acquire. In the end this makes the game more fun"¦and that's what it's all about!
According to calculations by industry veteran Barney Adams, comparing a tour professional's average drive and an amateur's average drive, most amateurs are trying to play the tour-equivalent of an 8,000-yard golf course. By playing from forward tees, amateur golfers have the chance to play the course at the same relative distance as a touring professional would over 18 holes. Giving golfers the opportunity to play from distances that are properly aligned with their abilities levels the playingfield.
Jack Nicklaus is a proponent of playing a forward tee. "I love the game of golf but I will be the first to tell you that there are things about our game we need to improve," Nicklaus said. "Now The PGA of America and the USGA have come together to develop ways to that can make the game more attractive and more enjoyable. I think families around the country will enjoy alternate formats like this to make the game more fun."1
We have already begun to receive favorable feedback about our new 6,000 and 6,400-yard tees. Golfers are excited to try these shorter length courses. Have you tried playing one of these new tee combinations? What you think of the distances? How have they affected your play experience? Let us know in the comments, we are always looking for ways to improve your overall experience.
_________________________________________________________________________________________________
1 PGA of America. "PGA and USGA Step to New Sets of Tees in Tee it Forward Initiative." 2012.