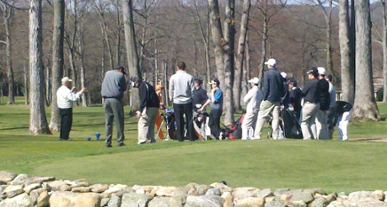 On Monday, May 14th Bowling Green hosted the 78th Annual NJSIAA North Jersey Section 1 & 2 Group 1 State High School Championship.A separate NJSIAA Sectionals tournament for individuals was also held. The winners of these two golf tournaments advanced to the NJSIAA Tournament of Champions in Neshanic Station, NJ on May 24.
NJ high school tournaments change locations each season. Last year the Big North Conference Tournament was held at Bowling Green and the NJSIAA sectionals will return to Bowling Green next year.
Students from Madison, Caldwell, Cresskill, and Park Ridge high schools competed at Bowling Green Golf Club for the tournament. Our home team high schools, Jefferson and West Milford, who practice and play their season at Bowling Green competed elsewhere in North Jersey as the Bowling Green venue was specifically for Group 1 schools.
Madison High School, led by overall medalist Andrew Wells, came out on top at the Group 1 sectionals tournament. Wells won the individual state sectional championship for the second straight year by finishing with a three-over par round of 75. He was exceptional as the only golfer to shoot under 80 at the Bowling Green Golf Club sectional.
The Madison High School Dodgers defeated their closest competitor Caldwell High School, 329-357. Freshman Alex Bollington carded an 82, placing fourth overall, with Matt Gilbert scoring an 85 and freshman David Wells, Andrew's brother, scoring an 87.
In addition to hosting the Group 1 Sectionals Tournament, Bowling Green Golf Club is proud to be the home course for both Jefferson and West Milford High School golf teams. Jefferson High School competes in the Northwest Jersey Athletic Conference and West Milford competes in the Big North Conference.
West Milford High School, led by coach John Finke, has 10-7 record to date. West Milford's top player, Chris McCormack, advanced to the Tournament of Champions based on his play in the State Sectionals. He will be returning next season as this young team continues to build.
The Jefferson High School Falcons have a 24-2 record to date and were the winners of the Morris County Tournament (MCT) held at Flanders Valley Golf Course in early May where they defeated defending champs Delbarton. After a disappointing showing in their State Sectionals, the Falcons are looking for a comeback at the Northwest Jersey Athletic Conference tournament on May 29th where they face Delbarton again as well as Montville and Mendham, the two teams who handed them their regular season losses. The conference tourney is being held again at Flanders. The Falcons have dominated their league with the strong play of seniors Ryan Snouffer and Dan Olive and sophomores Joe Moretti and Vinny Canarozzi
In an interview with the Jefferson Patch, Falcons coach John Cinotti had high praise for his team.
"Ryan and Dan both work very hard on their game, and on the team," he said. "I've had them since they were freshmen and I've watched them grow. They are very team-oriented, and help out the younger kids now."
Jefferson won its first ever Morris County Tournament team championship on May 8th defeating defending champion Delbarton.
The nature of amateur golf is different than most other sports because it is a game without referees, played on the honor system. It is up to the individual to know the rules and to call a penalty on himself when necessary. Those who love the game point this out as a unique attribute that teaches important life lessons about honesty and integrity. There's a much different competitive feel on the course than with other team sports. Particularly "" It's quiet during the matches!
An evolving aspect of the high school game is the number of girls competing. A team like Jefferson does not have a separate girls team therefore the girls on the team will only compete a few times per season when the opposing school also has girls on their team. But the game is growing for them too as there are a few schools which are able to field a separate girls team.
With the competitive high school season coming to a close, we at Bowling Green Golf Club would like to wish the graduating seniors the best of luck in their future endeavors and we look forward to seeing the remaining golf team members back next season.