Beginner and seasoned golfers around Oak Ridge and throughout northern New Jersey share many of the same general expectations of course conditioning and customer friendly relations when choosing a course to call home.
New Jersey Golfers, beginner and experienced alike, enjoy a course with well-maintained fairways, greens & bunkers plus a pro shop staff which is genuinely glad to see them when they arrive. However,as beginners develop from folks looking for a relaxing afternoon with pals in a beautiful surrounding into more seasoned golfer, their expectations become heightened. Over time, experienced golfers begin looking for course design features which challenge their developing playing skills such as quality greens which roll true and putt fast, championship tees and well thought out hole layout and hazard placement, as well as a reasonable pace of play, ease of scheduling tee times and quality of practice facilities. And many golfer, beginner & experienced alike desire for their home course to feature a signature hole which encompasses memorable scenery and shot making thrills for all.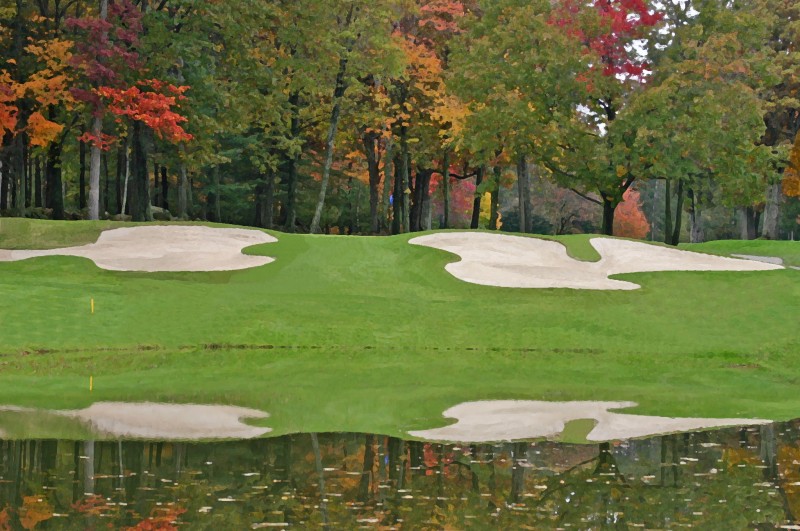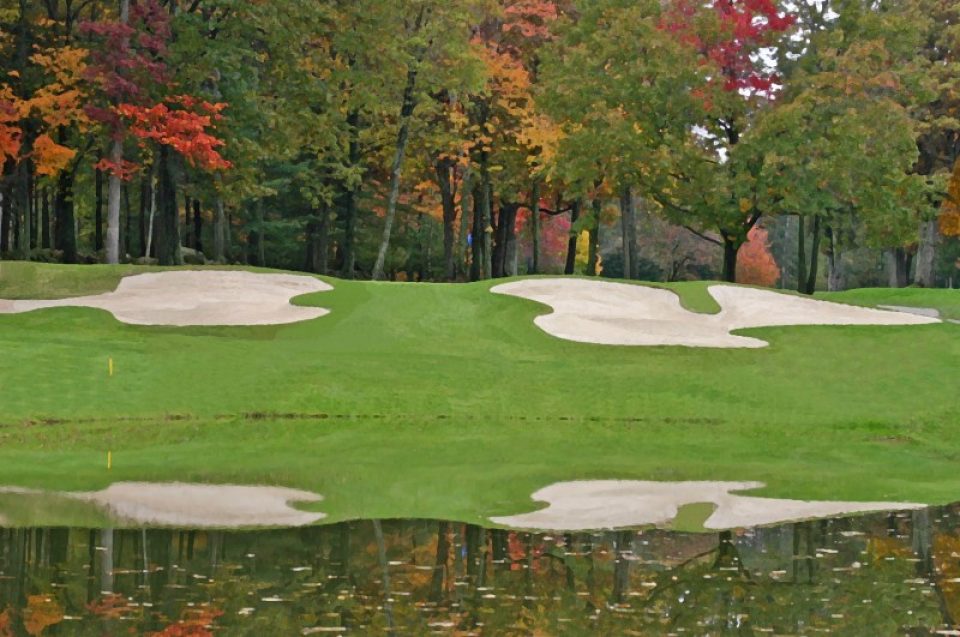 Here is a rundown of top public golf clubs in and around Oak Ridge in Northern NJ designed to challenge more seasoned golfers:
Bowling Green Golf Club, Oak Ridge, NJ
Privately owned, Bowling Green has a traditional course layout following the contours of the land designed by Geoffrey S. Cornish with enough nuance to keep golfers returning. A course that calls for shot making but is also forgiving, Bowling Green is a daily fee course offering green fee options that appeal to members and non-members alike. Bowling Green is the home of the four hour round, five sets of tees, superior playing surfaces, the opportunity to either use carts, or walk at any time, plus a relaxing and low-key family atmosphere. Narrow fairways, some with doglegs, are challenging but a recovery shot from the rough is always on the table; making for an enjoyable round that challenges you fairly. Bowling Green likes to boast that its four Par 3s are the most difficult in the State and awards a coveted hat, "conquer the threes" to golfers who report that they have made par or better on all four in one round.
Everything from the variety of teeing options to the choice of food and drink options ensures there is something for everyone in your foursome.18 hole, 72 par, 6,863 yards, 73.2 rating, 134 slope*.
Berkshire Valley Golf Course, Oak Ridge, NJ
This 18-hole, par 71 – 6,800 yard, Morris County Parks Commission Golf Course designed by Roger G. Rulewich, presents unique challenges atop the ridge of Green Pond Mountain. The first 4 holes can be quite challenging as they're played off the side of the mountain. Interesting topography and beautiful views from this course create a challenging golfing experience with a73.1rating and 137 slope*.
Sunset Valley Golf Course, Pompton Plains, NJ
Sunset Valley is a 18 hole regulation length Morris County Parks Commission Golf Course offering 70 par, 6,483 yards with a 71.8 rating and 130 slope*. Fast, sloped greens provide enjoyable challenges even for the advanced player. A Morris County Municipal Course, Sunset Valley can get quite crowded which can slow down play.
Knoll West Golf Club, Parsippany, NJ
Designed by Charles Banks, the Knoll West is aMunicipal Course operated by the town of Parsippany. A par 70 course playing 6,752 yards from the blue tees and 6,479 from the white tees has a 73.0 rating and 131 slope*. Deep traps surround the greens which are mostly elevated. The fairways are wide but traps are strategically placed. Carts are required.
When it comes to finding a golfing experience in North Jersey that suits your needs, there are a number of choices. With so many options, once you find the location you want to call home, you can focus on improving your game and appreciating your surroundings and your time with your golfing buddies.
*Course and slope ratings are created by the USGA "" a course rating is the relative difficulty of a course for a Scratch golfer (0 handicap) a slope rating is the relative difficulty of a course for a bogey golfer (20 handicap) "" Course and slope ratings are typically quoted for the championship tees.